Violations of Occam's Razor, along the lines examined already in my previous post, are in fact rather common in the "scientific" literature supporting the so-called "consensus" view of climate change. The following excerpt from the previously quoted Wikipedia article on Occam's Razor states the issue quite succinctly:
[F]or each accepted explanation of a phenomenon, there is always an infinite number of possible and more complex alternatives, because one can always burden failing explanations with ad hoc hypotheses to prevent them from being falsified . . . (https://en.wikipedia.org/wiki/Occam%27s_razor#Ockham)
The widely accepted notion that sulfur dioxide aerosols from the burning of fossil fuels were responsible for the mid-20th century hiatus in global warming (see previous post) is only one of many similar examples I could provide. In this post, I will focus on a more fundamental issue, that of sea level rise.
Here's what I wrote on this topic in a
recent post
on the RealClimate blog:
I just now discovered, via youtube, a very interesting brief lecture on sea level rise by Stefan Rahmstorf:
His treatment of this issue is especially welcome because he delves more deeply into the problem of local sea level variation than is usually the case in presentations of this sort. I was troubled, however, by his apparent inability to see something in the graph he himself presents that seems obvious to me. I consequently added a comment, which I reproduce here for the benefit of my many "fans" on this blog:


"Thank you, Stefan, for your very illuminating comments regarding the variability in world sea level rise, an issue that needs to be addressed but is usually ignored. However, the graph we see at 2:32 https://youtu.be/WQpv-yhEBoY?t=2m32s
suggests that the overall rise in sea level cannot be due to CO2 emissions as you would like us to believe. The relatively modest burning of fossil fuels prior to the 1940's is considered insufficient by most climate scientists to have played a major role in either global temperature rise or sea level rise, as I feel sure you are aware. And during the period from ca. 1940 to ca. 1979, as is also acknowledged by most climate scientists, there was no significant warming of either the land or sea, despite the strong increase in the burning of fossil fuels during this period. Thus the steady rise from ca. 1880 through 1979, so evident from your graph could not possibly be due to CO2 emissions, but must have had some other cause. It is also possible, as your presentation suggests, that our ability to determine sea level rise globally is so distorted by local variations that the data now available to climate scientists like yourself is all but meaningless."
As always I feel confident that the experts prowling here will have no problem spotting my mistake.
To better understand my point, let's compare Rahmstorf's graph to the following, drawn from the
Skeptical Science
website, a comparison of global temperatures and greenhouse gas levels: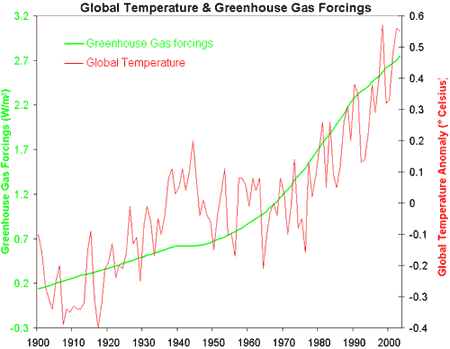 As depicted in the above, greenhouse gas "forcings" (in green) due mostly to the burning of fossil fuels, rose only slightly from 1900 through ca. 1950, after which time we see a very pronounced increase. Yet global temperatures (in red) soared dramatically during roughly the same period (from ca. 1919 through ca. 1945). The very gradual rise in CO2 levels during this era was too modest to account for much of the contemporary temperature rise, leading most climate scientists to agree that greenhouse forcings could not have been a major factor as far as temperatures are concerned. In view of the fact that global average sea level, as Rahmstorf himself explains, is to a large extent controlled by temperature, we can only conclude, therefore, that only a small part of the apparently steady increase in global sea levels during the first half of the 20th century, as depicted in Rahmstorf's graph, can be attributed to the release of CO2.
Moving to the period from ca. 1945 through ca. 1979, we see, first, a steep decline in global temperatures, followed by a period in which no trend in either direction is evident. Yet, if we once again turn to Rahmstorf's map, we see no discontinuity in sea level rise whatsoever. Sea levels apparently continued to rise steadily throughout the 20th century, apparently ignoring the long period of roughly 40 years during which there was no significant rise in global temperatures. Discounting for the moment the question of how such an increase would be possible without a concomitant rise in temperatures, it seems clear that CO2 levels, which were rising dramatically at the same time, could have had no influence on sea level rise during this period as well.
For almost all of his presentation on this particular video, Rahmstorf is impressively thorough and objective. Yet, as one might expect from his strong commitment to the standard "climate change" dogma, he winds things up by urging us to reduce "our greenhouse gas emissions," as though such a reduction could possibly make a difference of any real significance in controlling sea level. As a climate scientist, Rahmstorf is, of course, well aware of the evidence I've presented above, which tells us how unlikely it is that greenhouse gases (aka CO2 emissions) could possibly have anything to do with sea level rise, but since that would go against one of the most important sources of climate change hysteria, he must have felt obliged to make that pitch regardless.
Needless to say, my comment on the RealClimate blog was not greeted with enthusiasm. The longest response was from the same individual to whom I responded in my two previous posts: CCHolley. I won't take the trouble to quote his very long and labored "explanation" but you can find it
here
.
Holley never actually responded to the argument I presented but, as I expected, complicated things with attempts at the typical sort of "saving hypotheses" so typical of "climate change" thinking generally, primarily by emphasizing the relation between the "hydrological cycle" and sea level, as though that had any relevance whatever to the issue at hand. I had the impression that he believes there is no relation between CO2 levels and sea level rise at all, as reflected in the following: "
The problems Victor states with sea level rise correlating to temperatures has nothing to do with the cause of the temperature rise. Nothing. Yes, one would expect long term sea level changes to follow temperatures. However, this correlation does not matter on what the cause of warming is."
If he really feels this way, I suggest he take it up with Rahmstorf, who certainly does attach considerable importance to CO2 as the "cause of the temperature rise," which in turn produced the (alleged) sea level rise.
As I half expected my response to Holley along with others who dismissed my observations by recourse to totally irrelevant (but properly "peer reviewed") research, has been relegated to the Bore Hole -- which tells us a lot about the level of "scientific" integrity encouraged at the RealClimate site. Here it is: