Mowing
There was never a sound beside the wood but one,
And that was my long scythe whispering to the ground.
What was it it whispered? I knew not well myself;
Perhaps it was something about the heat of the sun,
Something, perhaps, about the lack of sound—
And that was why it whispered and did not speak.
It was no dream of the gift of idle hours,
Or easy gold at the hand of fay or elf:
Anything more than the truth would have seemed too weak
To the earnest love that laid the swale in rows,
Not without feeble-pointed spikes of flowers
(Pale orchises), and scared a bright green snake.
The fact is the sweetest dream that labor knows.
My long scythe whispered and left the hay to make.
Robert Frost
"I'm struggling with a canvas I started a few days before my illness -- a reaper. The study is all yellow, extremely thickly painted, but the subject was beautiful and simple. For I see in this reaper -- a vague figure toiling away for all he's worth in the midst of the heat to finish his task -- I see in him the image of death, in the sense that humanity might be the wheat he is reaping. So it is, if you like, the opposite of the sower which I tried to do before. But there's no sadness in this death, this one takes place in broad daylight with a sun flooding everything with light of pure gold." Vincent Van Gogh, from letter to Theo Van Gogh, Saint-Rémy 5 or 6 September 1889.
THE MALDIVE SHARK
Herman Melville
About the Shark, phlegmatical one,
Pale sot of the Maldive sea,
The sleek little pilot-fish, azure and slim,
How alert in attendance be.
From his saw-pit of mouth, from his charnel of maw,
They have nothing of harm to dread,
But liquidly glide on his ghastly flank
Or before his Gorgonian head;
Or lurk in the port of serrated teeth
In white triple tiers of glittering gates,
And there find a haven when peril's abroad,
An asylum in jaws of the Fates!
They are friends; and friendly they guide him to prey,
Yet never partake of the treat--
Eyes and brains to the dotard lethargic and dull,
Pale ravener of horrible meat.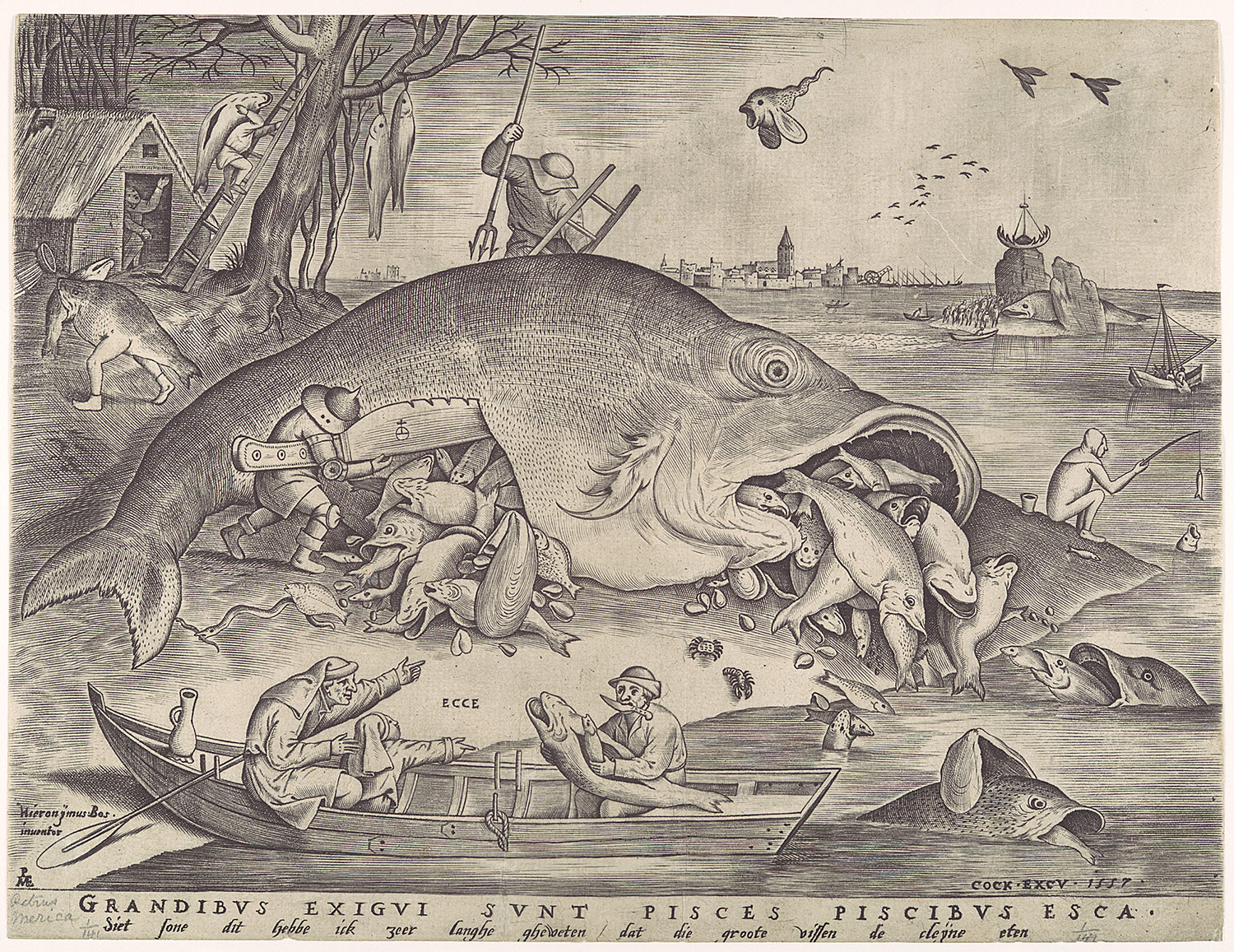 Big Fish Eat Little Fish -- Pieter Breughel the Elder

"A true account of the actual is the rarest poetry, for common sense always takes a hasty and superficial view." Henry David Thoreau